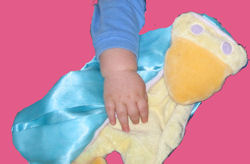 We have a mailing list of people looking for this blankie.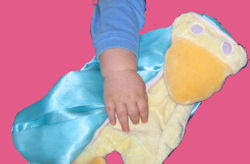 I'm looking for a satin and plush blankie that looks like a duck, with light blue satin on one side and yellow plush on the other. It was made by Manhattan Toy and is called Sue the Duck.
Our daughter has gone through 3 of them and can't bear to be without! Her third one is beginning to disintegrate, so I'm hoping to find her next replacement! I missed out on the eBay item in Sept., 2013, for Manhattan toy company's discontinued "sue the duck"! Please help me locate another!
Thank you,
Heather
If you can help Heather find this Manhattan SUE the DUCK BLUE & YELLOW BLANKIE, THIS SEARCH REQUEST IS NO LONGER ACTIVELY MANAGED. Please use Our FREE FACEBOOK GROUP, including the POST CODE #30232