Megan is also looking for this cow.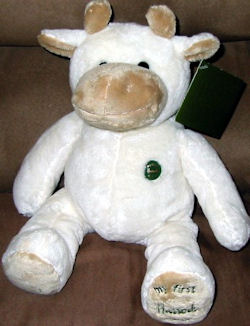 I'm looking for a white and tan plush cow from Harrods department store in London. One of the feet is stitched with "My First Harrods Cow", and it has a green button on the chest which says the same thing. The original was purchased in 2006 and is no longer available from the store.
My son, Jack, has had this toy since birth. We bought it for him the day we found out he was a boy. He has always slept with it, including on numerous hospital stays, as he has Leukemia. The nurses have always given 'Cow Cow' his own hospital ID bracelet, as he means so much to Jack.
We went on holiday last week to celebrate Jack finishing his first year of chemotherapy, and he left 'Cow Cow' in the hotel bed. The hotel hasn't been able to find him.
Please please, if anyone knows where I might find one it would mean so much to Jack.
Thanks,
Debbie
If you can help Debbie find this White and Tan Harrods My First Cow, THIS SEARCH REQUEST IS NO LONGER ACTIVELY MANAGED. Please use Our FREE FACEBOOK GROUP, including the POST CODE #30249
Originally posted [postdate format="M j, Y"]