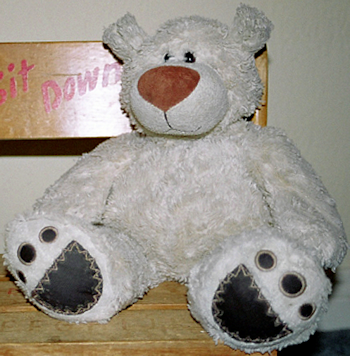 I'm looking for a medium size 2006 First & Main white teddy bear or polar bear with small black plastic eyes, a big brown nose, and dark brown foot pads. Her stuffing is very loose, so she is very flat and floppy. Her right ear is very worn down compared to the left ear.
It was Lost on September 28, 2013 at Parking Lot 4 South in Santa Monica, California around 7:30pm during the "Glow" event. We believe Teddy fell out of the car in the parking lot, as my daughter and I know that Teddy is never allowed on the beach.
White Old Teddy was a baby gift for my daughter when she was born. This is my daughter's very first lovey, and she has slept with this stuffed animal every single night of her entire life. Teddy has traveled to visit family, been to Disneyland, has wiped my daughter's tears, kept her safe at night, and been a very good friend for an only child.
This stuffed animal represents my daughter's entire childhood years, and not only do we feel like a piece of her childhood is now gone, we truly feel like we have lost a member of our family.
Thanks,
Nancy
If you can help Nancy find this 2006 First & Main White Bear, THIS SEARCH REQUEST IS NO LONGER ACTIVELY MANAGED. Please use Our FREE FACEBOOK GROUP, including the POST CODE #30666