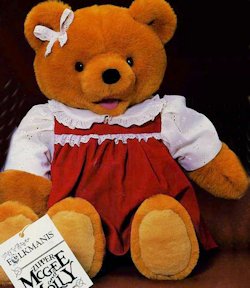 I'm looking for a Zipper Molly (partner to Zipper McGee) It's a 1985-1988 brown bear Folkmanis Folktails Puppet. She is probably about 20-24 inches tall. She wears a maroon or red corduroy dress with white lace sleeves, collar and waist. She also has a white bow on her right ear. Molly is a puppet, so she has a hole in her back for your hand which allows you to move her mouth and make her talk.
Molly is so important to me, because I would love to reunite my wife with this part of her childhood. As long as I have known my wife each time we are with her family and we begin talking about her as a child, Molly the bear comes up in the course of conversation. Molly was my wife's favorite toy she had while she was a child. Every time we speak of Molly my wife says if there were one piece of her childhood she wishes that she still had, it would be Molly.
Unfortunately, over the course of time Molly has been either misplaced or lost. I would love to be able to give my wife the joy of reuniting with this precious part of her childhood.
Thank you and God Bless,
Kyle
If you can help Kyle find this 80s Folkmanis Zipper Molly Brown Bear Puppet, THIS SEARCH REQUEST IS NO LONGER ACTIVELY MANAGED. Please use Our FREE FACEBOOK GROUP, including the POST CODE #30646