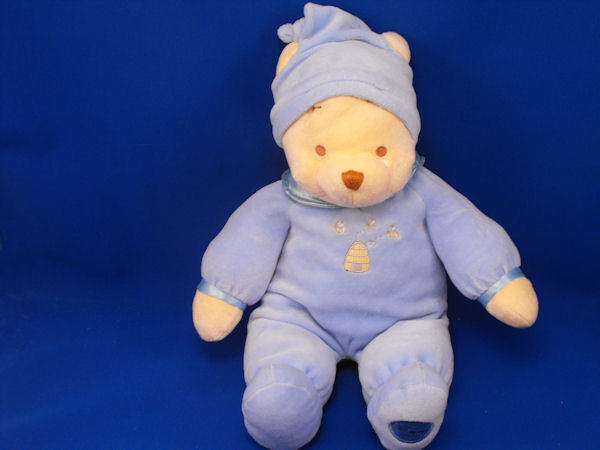 I'm looking for a Disney 15 inch cream velour WINNIE THE POOH teddy bear wearing a blue velour sleeper. It has a blue satin collar and cuffs and BEE HIVE and BEES are embroidered on the tummy. He's wearing a matching knotted stocking cap with holes for his ears. There's a LOGO patch on the left foot.

My son lost his sleeping buddy on our last vacation. I am looking to cheer him up and find a replacement of his Disney Winnie the pooh plush bear with blue sleeper pajamas and night cap. I did read another person had the exact same Winnie and it looked like they found him. I really need your help!

Thanks,

John
If you can help John find this Disney Cream Pooh Blue Velour Sleeper Bee Hive Stocking Cap, THIS SEARCH REQUEST IS NO LONGER ACTIVELY MANAGED. Please use Our FREE FACEBOOK GROUP, including the POST CODE #24814,
Please add the POST CODE to your comment.
Originally posted [postdate format="M j, Y"]
Please be sure you Contact US with an email address that is correct, and that you will be using for a long time!! We can't help you if we can't contact you!!