FOUND – 2004 Chosun? JUST FRIENDS BLUE & YELLOW Crib Pull COW that Plays BRAHMS
Todd writes:


We got her!! That's exactly the cow she used to have. She is so extremely excited!!! Thank you for all of your help!

But Jenni is still looking for this same cow.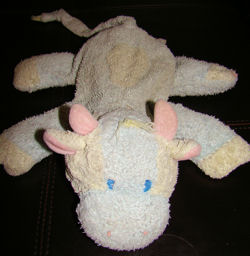 My 5 year old daughter lost her beloved stuffed cow. It was a Just Friends blue and yellow cow that played Brahm's Lullabye when you pulled its tail. She received it January 31, 2004. I believe that Chosun International may have been the company that produced the "Just Friends" line of stuffed animals.
I've searched everywhere I can think of online, but can't find her cow. If you can help me, I would greatly appreciate it!!
Todd
If you can help Todd find this Chosun? Just Friends Crib Pull Blue & Yellow Cow that Plays Brahms, THIS SEARCH REQUEST IS NO LONGER ACTIVELY MANAGED. Please use Our FREE FACEBOOK GROUP, including POST CODE #111209-1 in the subject
Originally posted 11/12/2009