Searching 2002 Large Brown Bear with Sheer Gold Bow DISASTER PRIORITY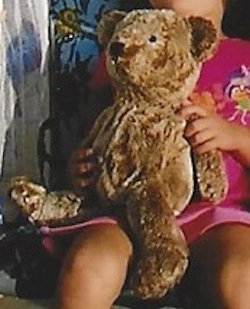 I'm looking for a large brown teddy bear that I think came with a sheer gold ribbon. My daughter received it from her great-grandfather in December, 2002. I think my dad and grandfather probably bought it from a Toys R Us, Target or Walmart.
I don't know what brand it is, but have been searching the web with no luck. I need some expert advice.
This bear had been my daughter's best friend since the day she got him. She is almost 12 now….but misses him terribly.
Our family home burned to the ground this past May 30th. Thankfully, our kids and dogs made it out safely, but there was no time to grab anything else. I have desperately been trying to find the "one thing" that each of my children cherished the most. If I can find another bear like "Bear Bear"….it would mean SO MUCH to my daughter. It would help to make up for everything else we have endured recently.
Any help you can offer would be extremely appreciated.
Thanks,
Kelly
If you can help Kelly find this 2002 Large Brown Bear with Sheer Gold Bow, THIS SEARCH REQUEST IS NO LONGER ACTIVELY MANAGED. Please use Our FREE FACEBOOK GROUP, including the POST CODE #26013