Searching – Tan Cream Brown 2012 Small Lying Down Lamb for a Dog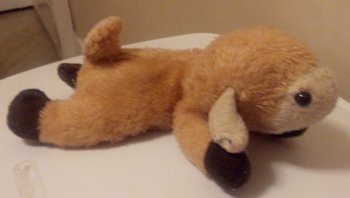 I'm looking for a 7 inch lamb in an outstretched position with solid plastic eyes. His feet are brown, his body is tan, his face and ears are cream, and his tail is upturned.
He was purchased for Easter in 2012. When purchased he had a blue ribbon bow around his neck. We purchased the stuffed animal from Tops Friendly Market in Ontario, NY 14519.
Our dog received this lamb for Easter in 2012, and they've since been inseparable. He looks for it everywhere when we are washing it and won't go to sleep without it. He carries it around everywhere with him. When he is sleeping he uses it as a pillow. I have never seen a dog love a toy so much. He always has it. I have sewn it up many times, and he doesn't leave my side while I am working on him. He knows this toy by name, his Lambchop.
Unfortunately, we were puppy sitting for a friend, and he got hold of our dog's lamb and destroyed it beyond repair. I was afraid the puppy would ruin him, so I had him put away for a few days. But Tyson was looking for him nonstop all over the house. When I finally gave in and brought Lambchop out the puppy must have taken him from Tyson and chewed his face off :(.
If you know where I can purchase this item or have any helpful info at all it would be greatly appreciated. He has not stopped his search for his toy!
Thanks,
Ashley
If you can help Ashley find this 2012 Small Lying Down Tan, Cream, Brown Lamb, THIS SEARCH REQUEST IS NO LONGER ACTIVELY MANAGED. Please use Our FREE FACEBOOK GROUP, including the POST CODE #26015