Searching – 2004 Brown Dog Black Ibiza Rocks Shirt Surfer Shorts Red Collar PRIORITY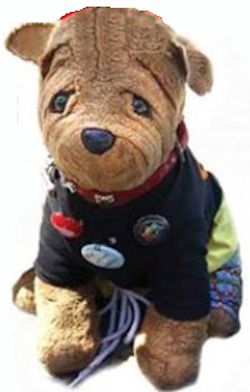 I'm looking for an 11 inch tall medium brown fur stuffed dog. I don't know what brand he is, as his tag wore away years ago. He is 9 years old and looks a bit worn.
When we lost him he was wearing a black t-shirt with the words "Ibiza Rocks" on the back inside a neon orange circle. He was also wearing blue and red plaid surfer shorts with a yellow back and had a red collar on with silver bones.
There is currently a $1000 reward for his return.
Winston von Bark became part of my husband's and my life 9 years ago when we first got together. At first it was a joke between us to take him traveling with us and take photos. At some point he became so much more. He was at our wedding with a bow tie on. He is our constant travel companion, and if my husband and I are in separate places we argue about who gets to take him. He has an international presence on Facebook and is adored by many.
More recently, my husband was diagnosed with cancer and Winston has been there for him, snuggling up and letting him know things are going to be alright. Winston is a symbol of our marriage. He means more to us than our wedding rings. We can't imagine our lives without him.
Winston was lost in New Orleans by the French Market on the corner of Governor Nicholls and French Market Place on Saturday, September 28, 2013 around 2pm. He fell out of my bag without me knowing it, and within 5 minutes I was back at the place he fell out. Two witnesses saw him on the ground, and one saw a male, part of a group, pick him up.
I have searched the area and handed out fliers everywhere. There is a Facebook and Twitter campaign going on, but I need all the help I can get. Here's Winston von Bark's own LOST web page, with contact information.
Thanks,
Lindsey
If you can help Lindsey find this 2004 Brown Dog Wearing Black Ibiza Rocks Shirt and Blue Plaid Shorts, THIS SEARCH REQUEST IS NO LONGER ACTIVELY MANAGED. Please use Our FREE FACEBOOK GROUP, including the POST CODE #30265
In case no one can find the actual Winston, please be on the lookout for a replacement Winston. He looks to me a little like a Shar Pei stuffed dog without deep wrinkles, which matches some I've found online. Hopefully the photo will help you to identify a replacement Winston.