Searching – Floppy Lying Down 1987 Tan and White Dog DISASTER PRIORITY
This is an edited photo of a different dog. The shape of the head is accurate. Unlike the photo, the back legs where out backwards.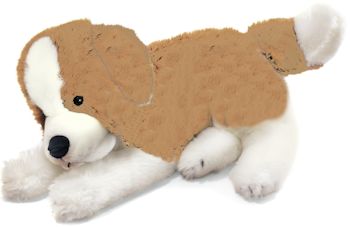 I'm looking for an 18 inch long floppy lying down tan and white dog. He had a solid tan back, his belly was white, and his legs were white. The tail was tan, and the tip was white.
He had hard eyes and a hard nose, and a white muzzle with a closed mouth. There was tan around the eyes, but white between the eyes. He had floppy tan ears.
There was no collar or bow. He didn't really look like any breed, but he was kind of realistic looking. The more I think about him the more I want to say his brand was either DanDee or Dakin, but I'm not sure.
My grandmother gave me this dog for my first birthday in 1987. He was my all time favorite toy. When I was little I took him everywhere with me. I slept with him literally every night, and he even went to college with me.
I lost my grandmother in 1998, and then in 2011 we lost our home to Hurricane Irene. We did not get any of our belongings out of the house. In fact we are lucky to have gotten ourselves and our pets out! As for possessions, they all washed away when the house fell in the creek and washed away.
Of all the stuff I lost, I would LOVE to replace this.
I do not have any pictures of him, but I will know it when I see him. If anyone can help, just let me know where I can find one, and that would be great.
Thanks,
Cindy
If you can help Cindy find this Floppy Lying Down 1987 Tan and White Dog, THIS SEARCH REQUEST IS NO LONGER ACTIVELY MANAGED. Please use Our FREE FACEBOOK GROUP, including the POST CODE #30279