Searching – 2001 Small Flounder Fish with Sideways Glance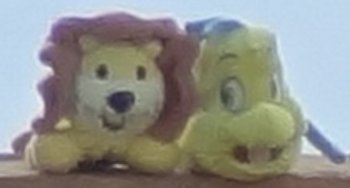 I'm looking for a circa 2001 5 inch fish named Flounder with sideways glance. And also a small lion that has a Velcro belly (where his voice box goes – which we still have).
As it happens, we have a second lion, but we're struggling to find a 2001 Flounder – all the new ones are bigger and have different faces – and the face is all important!
We're from the UK and were visiting Utah on a canyon's tour. We take our two furry companions with us everywhere we go – they've been to New York, Orlando, Vegas, Frisco, Portugal, Washington DC – the list goes on. We were distracted by a man who wanted the same shot, and we sadly left them on top of the sign. Despite calling the park that evening and the next day, they were unable to locate them, and it seems someone else has taken them in.
We want them back! Please help us! We're lost without them – every sign, every place we go to … we're gutted that we can't put them in place and take their photo like we've been doing for 12 years.
Ideally, we would get them both back – and to that end, a reward is being offered for their safe carriage across the Ocean back to us. Please contact me if you have any information that might lead to a replacement 2001 Flounder or lion.
Many thanks in advance,
Nicci
If you can help Nicci find this 2001 Small Flounder Fish with Sideways Glance, THIS SEARCH REQUEST IS NO LONGER ACTIVELY MANAGED. Please use Our FREE FACEBOOK GROUP, including the POST CODE #30657