Searching – Gray 1987 Potpourri Press Puffalump Elephant Pink Dress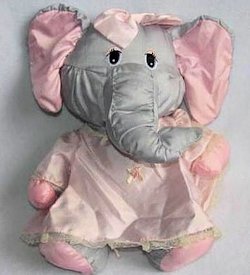 I'm looking for a grey Potpourri Press Puffalump elephant girl with a pink dress and pink bow. It was made in 1987 and only sold for a few years.
My daughter loved this toy (she named her Ellie) and took it everywhere with her. Sadly, her dad threw it away after we divorced.
I would love to have Ellie for my brand new granddaughter, Kailie. Please help me find this beloved stuffed animal for my granddaughter.
Thanks,
Stacie
If you can help Stacie find this Gray 1987 Potpourri Press Puffalump Elephant Pink Dress, THIS SEARCH REQUEST IS NO LONGER ACTIVELY MANAGED. Please use Our FREE FACEBOOK GROUP, including the POST CODE #30662