Searching – DanDee Collectors Choice Super Soft Brown Bear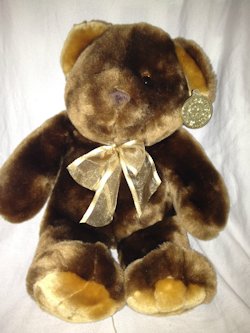 I'm looking for a really soft plush brown bear with brown eyes and nose. Inside the ears and the soles of the feet are gold colored. He has a shiny gold organdy ribbon around his neck. It's a DanDee Collectors Choice, with a gold coin in his left ear. It's about 12 inches long.
My son sleeps with this every night. We went to ToysRUs today, and I do not know what happened to it. My son needs it to sleep!
Thanks,
Heather
If you can help Heather find this DanDee Collectors Choice Super Soft Brown Bear, THIS SEARCH REQUEST IS NO LONGER ACTIVELY MANAGED. Please use Our FREE FACEBOOK GROUP, including the POST CODE #30692