Searching – Blankets and Beyond GREEN DOG BLANKIE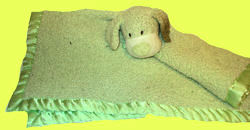 Jennifer is looking for this same blankie.Color is not accurate. I had to edit the image too much.

I am badly looking for a Green Dog Plush Security Blanket similar to the TY green dog security blanket, but not the same as in the body. I have been searching for weeks.

I accidentally bought the TY Green Dog, thinking it was what I was looking for. The blanket we need was made by Blankets & Beyond in Montreal, Canada. If you could help me I would be eternally grateful.

Thank you,
Amanda
There is a variation blankie on eBay right now. Notice that the one she needs has a white muzzle and a big green nose.
If you can help Amanda find this Blankets & Beyond Green Dog Blankie,Contact Us, including #060208-2 in the subject, .
Searching for a toy – Originally posted 06/02/2008