FOUND – PINK PUPPY Lost in Hospital HELP!!!!!!!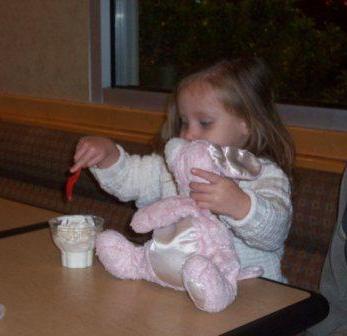 July 2, 2008 – I thought you might like to hear an update on Avey's condition. Amy writes:
She's doing MUCH better – out of the hospital and just taking some more meds. I so appreciate you checking in on her!
I spotted Jay while searching for a different pink puppy. Hers is a Baby GUND My First Puppy, in case anyone else needs to search for this dog.

Jay goes everywhere with Avey. He's been to the park, to the grocery store and, very recently, and to the Starlite office (where two real-life puppies almost gave Jay a trip directly to Puppy Heaven).
..
Anyway, when the nurses came to change the sheets on Avey's hospital bed last night, they apparently rolled Jay up and took him off to The Place Dirty Hospital Sheets Go…

Avey has been told that Jay is taking a ride through the hospital to visit all the other sick little girls and boys…

You can read the whole story here.
If you can help this family find this Pink Puppy Dog with White Satin Tummy and lining in the long ears, THIS SEARCH REQUEST IS NO LONGER ACTIVELY MANAGED. Please use Our FREE FACEBOOK GROUP, including #060408-3 in the subject, .
Originally posted 06/04/2008