FOUND – 2009 Carters Thank Heaven for Little Babies Green Bear PRIORITY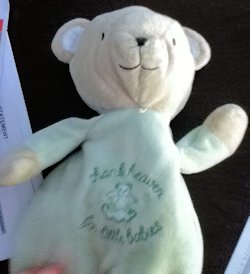 I'm looking for a 9 inch 2009 Carter's green bear (missing tag) with embroidered angel and words "Thank Heaven for Little Babies" on the chest.
It's super floppy after 5 years of intense love. The whites of the ears have been repaired and have satin patches hand-stitched on them, and the embroidered area on its chest has several holes where you can see an iron-on patch underneath in my most recent attempt to "fix" the holes. I even crocheted a heart, and my son put it inside Teddy before I ironed on the patch.
This teddy bear has been much loved and cherished since day one of my youngest son's life. It has been repaired several times, and has gone everywhere with us. This bear has been rescued many times before, which led to a strict "Teddy never leaves the house" rule. On February 27, 2014, however, I bent this rule and allowed my son to take it along on a pre-op doctor appointment (Lee Davis Pediatrics in Mechanicsville, VA).
He was nervous about his upcoming ear surgery to help him regain his hearing. When we got home from this appointment, he was missing. My son's surgery was the next day at 8:15 AM. He got very little sleep, and was extremely upset that Teddy was gone. I camped out at the Doctor's office the next morning at 6 AM hoping to rescue Teddy and make it to the surgery in time to console my son…with no luck. We are afraid that another child may have picked it up and taken it, since we were one of the last appointments of the day.
We are so worried that we have lost Teddy forever this time. After rescuing him so many times before, (the last time we lost him at a ski resort and found him!) we have hope that he will once again find his way home.
My son's surgery went well, and his hearing has already improved. However, the gaping wound from losing Teddy has put a damper on our joy that our son can hear us again. Even our oldest son is crushed by this loss, since Teddy has been a part of his life for so long as well.
We've been praying non-stop since 2/27, and we have faith that God will perform a miracle.
Thanks,
Rachel
If you can help Rachel find this 2009 Carters Thank Heaven for Little Babies Green Bear, THIS SEARCH REQUEST IS NO LONGER ACTIVELY MANAGED. Please use Our FREE FACEBOOK GROUP, including the POST CODE #30679
Originally posted [postdate format="M j, Y"]